What Is Digital Innovation?
Digital has fundamentally changed the world as we know it. Countless observations of the shift to digital are seen in our day-to-day lives. Both immediately in the new ways we communicate, shop and consume media and more subtly by shifts in manufacturing, government and security. In short spans of time, industries that appeared steady have been flipped on their head. The power of this disruptive force is transforming every single industry.
In uncertain times it is difficult to hone focus to prepare for change ahead. In this post we offer a primer on the state of digital innovation and digital transformation. Exploring what digital innovation means on a business level, and how it's fundamentally changing industries and markets.
What Does Digital Innovation Actually Entail?
Digital innovation is changing the business landscape at breakneck speed. The opportunities for business are threefold: they can enhance traditional business models and processes with digital technologies, digitally transform existing business models and processes and/or invent entirely new engagement models or business models.
At its heart, digital innovation is the application of new technologies to existing business problems or practices. The process is ongoing, but can be better understood as taking place in waves, with each wave propelled by advancements in technology.
Previous waves were driven by the advent of web 2.0, smart mobile devices and improved access to high-speed internet. The internet of things (IoT), big data, 3D printing, artificial intelligence (AI) and machine learning are just some of the emerging technologies that will push this trend forward in 2017 and beyond.
To remain competitive in the digital age, every organization must consider themselves a technology business. The customer journey now starts digitally. By leveraging opportunities to develop digital products, and using predictive data and analytics to better understand both customers' behavior and internal performance, businesses can grow revenue, cut costs and even build additional revenue streams with new digital capabilities.
What Does Real-World Digital Innovation Look Like?
Some Examples:
Machine to machine (M2M) communication is ushering in an era of 'predictive maintenance'. Sensors embedded in machinery are capable of transmitting data to pinpoint when maintenance is needed. This improves safety and efficiency by ensuring parts that need immediate attention are inspected, while valuable time isn't wasted on machinery that is functioning well. The upshot for businesses is the prevention of mechanical breakdowns and a reduction in maintenance costs. The Oil and Gas industry provides a real-world example. Many pipeline operators are now using sensors instead of human inspections to relay information on pipeline integrity – thus saving time on labor costs and increasing the safety of their operation.
Marketers use new touchpoints to engage with customers. Customers now use multiple channels to engage with a business before taking action. Through a well-thought-out digital strategy, marketers can turn these touch points into incredibly effective acquisition channels. Starbucks offer a prime example of this approach. The company launched a mobile order and pay app in 2009. This mobile app enables customers to order and pay for food and beverages from outlets in advance. The initiative was a staggering success, with mobile payments now accounting for an impressive 21% of transactions at Starbucks. However for the coffee giant the real value lies in the data generated by the application. It allows the firm to target customers with tailored marketing messages and well-timed offers based on an individual's specific purchasing habits.
Tesco are a notable example of how retailers can harness multichannel retailing to their advantage, in particular to suit the unique lifestyles of a country. The grocery giants have successfully beefed up revenues in South Korea by creating virtual stores. In South Korea an ingrained culture of technology coupled with long working hours and commutes led Tesco to a novel innovation. Using a custom mobile app, Tesco outlets allow customers to scan the codes of virtual groceries in virtual stores while waiting at train stations. The groceries  are then delivered to the purchaser's homes at a time that suits them. This initiative alone boosted the company's online sales by more than 130 percent.
---
What Digital Capabilities Do CEOs See as Most Important?
2015 research from PwC indicated that mobile technologies, data capabilities and cybersecurity were the top digital technologies strategically important by CEOs.
In 2016, further research from PwC shows that 78 percent of U.S. CEOs are somewhat or extremely concerned about the rapid pace of technology change.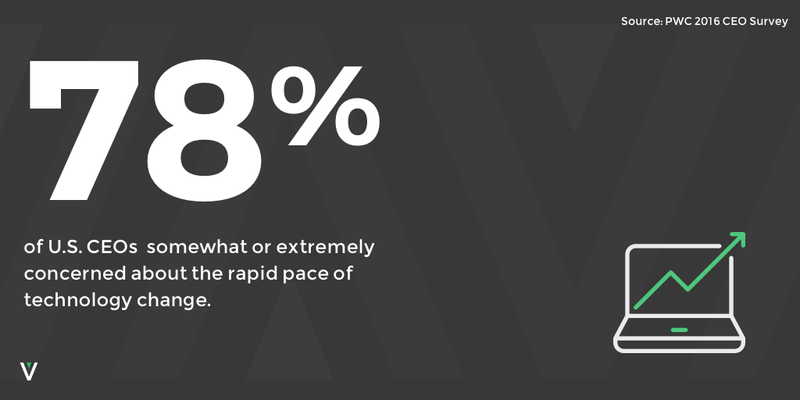 ---
How Does Digital Innovation Relate to Disruption?
Research from Cisco suggests that digital disruption has the potential to reshape marketplaces, upset incumbents and lead to large scale changes more rapidly than any other business trend in history.
Encyclopedias offer a notable example of an established business model upended by digital technology. 'Encyclopaedia Britannica', the former market leader, ended print production in 2012 following unprecedented market disruption in the form of Wikipedia.
SMS may follow a similar trajectory. Traditional phone carriers are expected to lose more than $50 billion in SMS revenue to WhatsApp by the end of this year. Other examples include digital photography replacing chemical photography, and before that word processors taking over the typewriter. The scope for disruption across all industries shows no sign of slowing.
The New Competitive Landscape?
Gartner, a leading technology research firm, has predicted that by 2025, all industries will have been transformed by the capabilities of digital technologies. However just over half of CEOs and senior executives admit to having a digital business strategy in place. With software, robotics and smart machinery negating the need for human labor, many existing blue-collar and white-collar jobs will be converted to digital.
The latest research from McKinsey suggests that successful incumbents are failing to innovate because they fear they will damage their core business. This is a dangerous strategy to adopt in a rapidly changing technological landscape.
Often, the risks of innovation required to deliver real growth are considered unacceptable by the organization that is required to take them. This is the core of the innovator's dilemma, as proposed by Clayton M. Christensen.
"The fear of cannibalizing sales of existing products is often cited as a reason why established firms delay the introduction of new technologies. "

Clayton M. Christensen

The Innovator's Dilemma: When New Technologies Cause Great Firms to Fail
Kodak offers a real world example of this dilemma. They were well aware of the digital revolution taking place and devised a seemingly strong strategy. The company created the first digital camera and poached top technology talent for leadership positions.
However, the firm ultimately met its demise by failing to let go of its core business model. Film was too precious for Kodak, and through fear of cannibalizing their core product, they went from a $30 billion company in 1996 to a minimal existence. The firm eventually filed for chapter 11 bankruptcy in 2012 and later re-emerged in 2013 to focus their efforts on serving commercial clients.
Industries Anticipating Digital Disruption
According to research from Russell Reynolds Associates in 2015, more than 60 percent of executives in media, telecom and consumer financial services anticipated moderate to massive digital disruption to their industries this year.
Media and telecom are industries driven by technological change. Often being one of the first industries to benefit from technological advancements. However digital disruption is accelerating the speed of change and growth of new revenue streams in these industries, creating new sets of challenges for incumbents.
Traditional cable providers are now facing real threats from digital alternatives. Streaming video is set to become the preferred form of consuming content, with eMarketer predicting that by 2017 two-thirds of Americans will stream digital video once a month.
Fintech startups have surged in the consumer financial services industry. Incumbents are now facing conspicuous threats from crowdfunding, alt finance, peer-to-peer (P2P) lending platforms and flexible investment products.
While only half of healthcare, asset wealth management and industrial executives anticipate moderate or massive digital disruption in the next 12 months, the telltale signs of looming disruption are present in these industries, as well.
In healthcare an abundance of digital health products are emerging and attracting substantial funding, despite an overall dip in the ability of early-stage companies to attract venture capital. The opportunities for technological applications in this sector are enormous, with IoT devices and the associated data generated already being used to help make more informed decisions during medical trials.
Conclusion
It's naive to assume that digitization is restricted to technology or digitally native firms. Digital innovation for non-tech companies is one of the most salient trends in the global marketplace today.  Heavy industries, like mining and railroad, have been embracing digital innovation for some time now, with digital processes being applied to safety, automation of tasks and efficiency initiatives.
With digital processes now touching every industry throughout the world, it's not a case of if but when digital innovation will impact incumbents and/or position innovators as the new champions.