The Power of In-Person Meetings: European Offsite 2016
At Tivix we start every new client engagement with a full-immersion kick-off workshop. The aim of this initial phase is to sit together with the client team to understand the product and its roadmap, determine all the risks, come up with a timeline for the development and production phase, and most importantly build a clickable prototype of the new application by the end of the workshop.
Preparations like that not only help to articulate a clear vision of what we plan to build, but also improve subsequent collaboration. Getting to know people personally makes it easier to form a common sense of ownership, which I strongly believe to be an important success factor. Communication, which can be a challenge, especially among multiple locations, becomes more effective. 
As much as we care about building and maintaining strong relationships with our clients, we also try to keep our internal bonding tight. Like many teams, we work together on projects despite being in different offices, and have daily stand-up meetings regardless of time zones. What makes our experience in getting to know each other unique is flying from every Tivix office into one place to gather for our biannual company retreat. (It would be too ideal if we all could come at the same time, so we break that down to two trips, one on each continent). 
The Tivix Offsite is all about quality time and sharing experiences, food and drink. It is also a perfect occasion to practice our presentation skills, and this year we had a chance to listen to eight great speakers. The diversity of our chosen topics reflected the individualism I value in Tivix so much. 
Dariusz gave a presentation about new project he is currently working on; Francis shared interesting bits of American culture with us; Rafał walked us through the  whole process and outcome of his work on a side project — a remote control (he built himself) to a Lego car; Tomek revealed the secrets of how to make users happy; Girish talked about Django and earthquakes, how to apply the first one to minimize effects of the second; Łukasz gave a speech about "Inspiration that leads to innovation," (we love innovation); Erin cast more light on web accessibility, highlighting there is still lots of work to be done in this field; and the last presentation given by Grzegorz turned into a lecture, so we will never forget about the importance of code reviews. 
Having in mind all of these excellent presentations only confirmed that working in different parts of the world brings a very wide set of skills to the team and gathering together creates the perfect chance to learn from each other.
One more time: I love diversity, and Tivix retreats.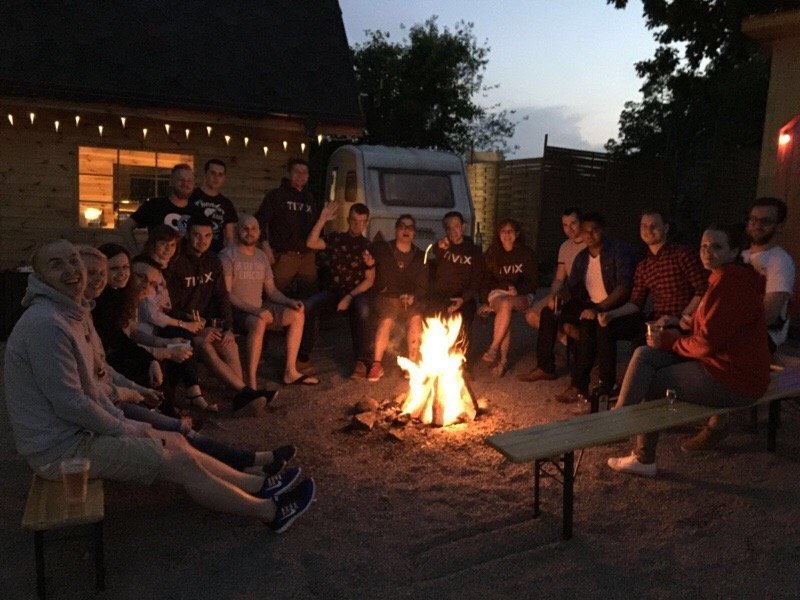 The Power of In-Person Meetings: European Offsite 2016