Full-stack development services means data science, too
The New Full-Stack
"Full-stack" used to refer to the chain of frontend and backend web development using multiple technologies. It's grown to include mobile application development as well (really a new "frontend" from a product perspective). With the right team of software engineers who continually improve their skills in specialized areas such as backend infrastructure, databases, browser interaction, javascript frameworks, etc. it is quite possible to gather a full-stack team. This is the goal for software consulting firms like Tivix – we bring these skills together in one place to be able to build just about anything.
Enter data science, big data, analytics, statistics, whatever you want to call the work done by those with the sexiest job in the 21st century. It's undeniable that your data is a competitive advantage when managed and analyzed well. Across industries companies are looking to the large service firms (SAP, IBM, Deloitte), focused upstarts (Cloudera, Knowledgent, ŷhat), and software development firms like Tivix to provide solutions that acquire, store, and analyze their data.
When you make data-driven web applications like we do, it is apparent that the ever-evolving technology landscape has expanded the stack to include data science. It is possible to tap one place for software development and data science services — and this is the new definition of a full-stack development shop.
Data Science as a Service
It is really useful to break down what data science services actually are. The easiest way to run aground is to think it's about the algorithms you employ, the models you build, or the volume of the data you collect. These are all tactics, important only when properly executed according to a worthwhile strategy. 
Data science services start with understanding what is valuable to the customer — how can they achieve their goals, make better decisions, know and provide for their customers in the best possible ways. This is the first step towards figuring out what can be measured and what's worth measuring. 

Take a data reporting dashboard — a very routine request. Incredible amounts of data are available in a web application, from system operations to real-time traffic and user tracking. The question is, What information in this deluge is useful? Routine data engineering will allow tracking of traffic sources and conversions,  but how do you account for bias and truly move from counting to analysis? A lot of the value in hiring analytics expertise comes down to discerning what has the potential to provide an actionable signal and work with that first.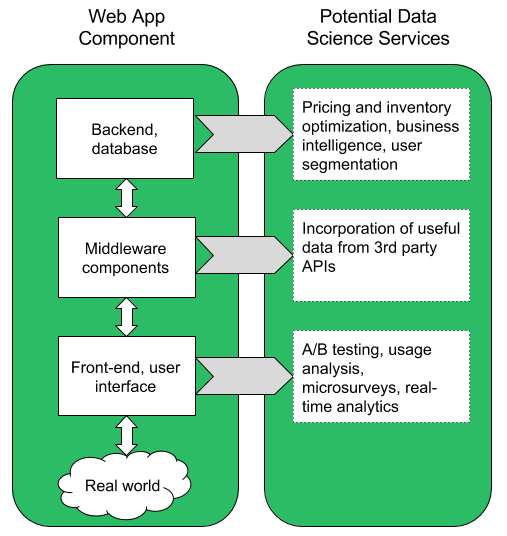 Another key data science service is the ability to understand the strengths, the weakness, and the myriad ways to mess up using statistical analysis and machine learning techniques. This is where you need specialists with the education and experience in data science working with developers competent in implementing applications. The issues include pitfalls such as model overfitting, sample bias, the pragmatic application of both Frequentist and Bayesian statistical analysis… the list is enormous. Having team members experienced in quantitative analysis meshed with business sense is essential to providing clients with value.
Perhaps best of all, bringing data science into your software consulting repertoire means it can be closely aligned with application engineering from day one. This is cheaper and more effective than developing extensive data engineering post-launch. It ensures that you are getting the most out of your data from the earliest possible moment, not playing catch-up like so many legacy applications have since data science came to the strategic forefront. 
The stack has expanded. Data science belongs in a one-stop software development firm, and with an experienced team it can bring value to clients alongside conventional software development services.
Full-stack development services means data science, too